A$AP Rocky and Rihanna are going to be parents. Baby Rih x Rocky
The global icon singer and her boyfriend rapper A$AP Rocky are  expecting their first child together, confirmed in a couple photos obtained by Enews.
PerPeople, Rihanna and Rocky appeared in a number of NYC-set photos, with the former showing a baby bump while wearing a long pink jacket and distressed jeans.
Along with her pink puffer coat from Chanel's Fall/Winter 1996 collection, Riri can be seen rocking a gold Rolex King Midas.
While neither ASAP or Rihanna have officially confirmed the pregnancy, ASAP Mob's official Twitter account posted a photo of the couple.
— A$AP MOB (@ASAPMOB) January 31, 2022
Rihanna and A$AP Rocky have had quite the history when it comes to their relationship. People reported that the "Disturbia" singer showed off her baby bump during a stroll through Harlem with Rocky.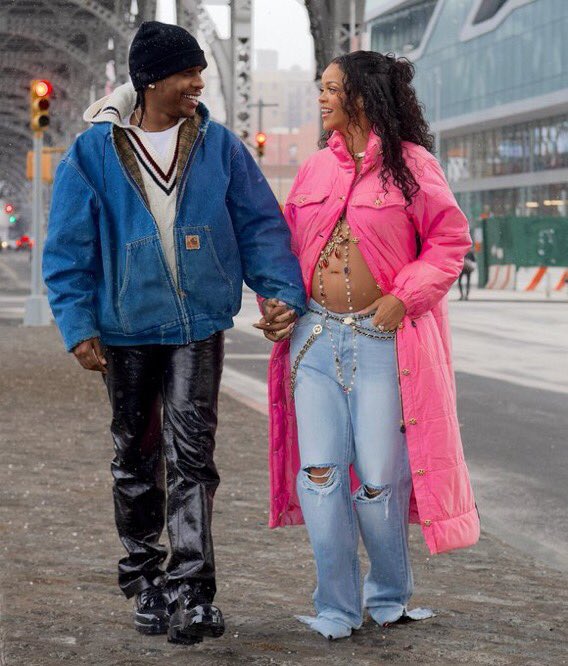 According to People, Rihanna is loving her pregnancy journey so far. "Having a baby is something she was never focused on, but being with Rocky opened her up to the idea," a source close to the couple said.
"She couldn't be happier and is so excited to be a mom."
PICS/VIDS:  @IG
https://www.instagram.com/p/CZcGOx-rE06/
https://www.instagram.com/p/CZaRzBjFuse/
https://www.instagram.com/p/CZZiMUbLRzI/
https://www.instagram.com/p/CZZkTJFLdNe/
https://www.instagram.com/p/CZZpb1pr6KH/
Mccall Kwadzo is the editor-in-chief for Mccall Kwadzo.com. Been a leading reporter in the music, movie, television and celebss spaces since 2017.