Desiigner has unretire himself and his back to revive rap music. The rapper yesterday posted on his social that "I'm not gonna stop music is my therapy." This news comes off after TMz reported that the rapper was done with rap music as he claims is taking a lot of brothers life.
"Desiigner no longer wants anything to do with the hip-hop scene as a result of the devastating news of Migos musician Takeoff's passing. – When Desiigner went live early on Tuesday, he swore off rap forever, yelling, "This version of me is done!" while pointing to plaques commemorating his previous works."
As he said goodbye to Takeoff and fellow deceased rappers PnB Rock, Biggie, and Nipsey Hussle, Desiigner also expressed his condolences to Quavo, Offset, DJ Durel, and the rest of Quality Control.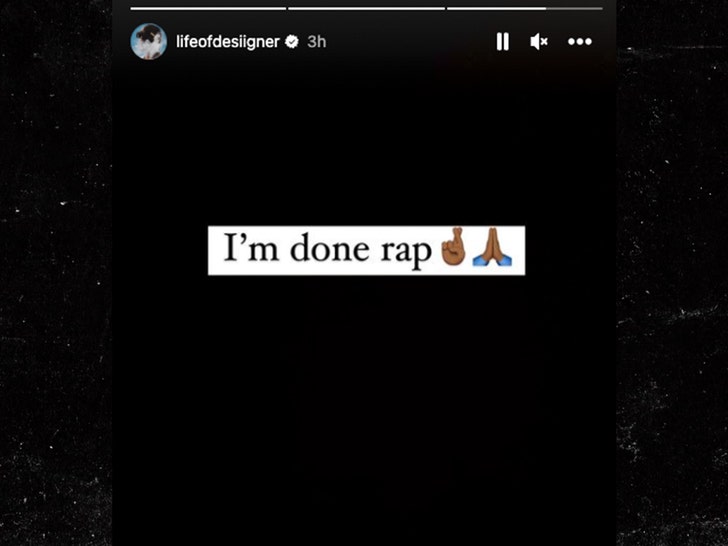 Now, fast forward to the present, and we have a new statement to consider……..
The rapper describes music as his therapy in his message, and his official announcement of quitting came as a result of the mental strain caused by the news of Takeoff's passing. Designer also claimed that he sobbed uncontrollably in order to view things exactly as they are.
"I lost a lot of bros this year we all say things out of emotions but the truth is in me being able to let out a good cry, help me see thing's way more clearer now."
With his God-given musical gift, Desiigner aspires to serve his followers and the wider community and has no intention of letting it go to waste any time soon.
"I'm excited to keep sharing the gift of music that god gave me to y'all."
Although Tee Grizzley later apologized for his remarks, Desiigner would have been the most recent rapper to follow him in quitting rap.