A police official claimed on Saturday that a 21-year-old Indian actor who has roles in various television programs and Bollywood films allegedly committed suicide while filming a TV serial in Vasai, Maharashtra's Palghar district.
During the serial's filming, Tunisha Sharma left to use the restroom and didn't come back for a while. She was discovered hanging inside the bathroom when the door was busted, police claimed. She was quickly taken to a hospital in Maharashtra but was pronounced dead when she got there, according to news agency ANI.
Tweet from ANI reads, "TV actress Tunisha Sharma committed suicide by hanging herself on the set of a TV serial. She was taken to a hospital where she was declared brought dead: Waliv Police."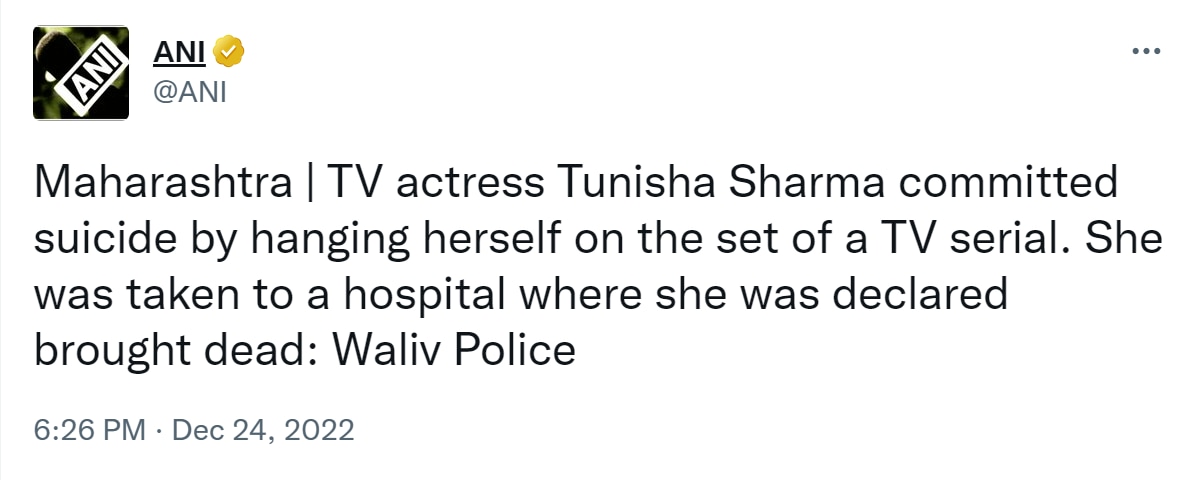 Police are looking into the suicide because the cause is not yet known.
With the film "Bharat Ka Veer Putra – Maharana Pratap," Tunisha made her acting debut. She also participated in the production of such television programs as "Ishq Subhan Allah," "Gabbar Poonchwala," "Sher-e-Punjab: Maharaja Ranjit Singh," and "Chakravartin Ashoka Samrat."
The actor also starred in a number of Bollywood films, such as "Fitoor," "Baar Baar Dekho," "Kahaani 2: Durga Rani Singh," and "Dabangg 3." In the movies "Fitoor" and "Baar Baar Dekho," Tunisha played a young Katrina Kaif. She also made a fleeting appearance in "Dabangg 3" alongside Salman Khan and Sonakshi Sinha.
Shivin Narang was one of several actors with whom Tunisha worked during her career. In an interview with Hindustan Times in 2018, Shivin had said of working with Tunisha, "I watched Fitoor and I found her (Tunisha) cute. And certainly, I am eager to collaborate with her. Up until this point, we had only finished the scripting session and look test.
"What we can tell about her is that she is a good actress. She has a different take towards her work as she's just 16 years and is very new to television," Narang concluded.
SUICIDE HELPLINE INFO:
If you need support or know someone who does, please reach out to your nearest mental health specialist. Helplines: Aasra: 022 2754 6669; Sneha India Foundation: +914424640050 and Sanjivini: 011-24311918